Special Events
Spirit Messenger
Spirit Messenger Vicki Chadbourne Monroe will be at WHS on March 24 at 7:30pm to benefit the WHSAA Scholarship Fund. Buy tickets at
Morse Hardware and Lumber
in Wells or by contacting Janet Tracey at 207-646-2684 or
janeil59@maine.rr.com
.
Scrapbooking Crop
Have you always wanted to try scrapbooking? Do you want to create the perfect album for that special occasion? This is your chance! Join us for our Spring Scrapbooking Crop on Saturday April 1, 2017, at Jonathan's Restaurant in Ogunquit. All proceeds benefit our scholarship fund. For more information and to reserve a space, contact Vicki Tufts at mtufts@maine.rr.com or 207-646-5619.
WHSAA Golf Tournament
Our 2015 golf tourney was a huge success, providing a substantial boost to our scholarship fund. Plans are in the works for next year's tournament and we can always use a helping hand to make it even more successful! Contact us if you'd like to help out.
Join us for a beautiful day of golf, all for a good cause! The sixth annual WHSAA Golf Tournament will be held Sunday, June 4, 2017, at Cape Neddick Country Club, with a rain date of June 25. All proceeds benefit the WHSAA scholarship fund. The entry fee of $100 per player includes golfing with cart, prizes, and dinner to follow. Registration starts at 8:00 am with a shotgun start at 9:00 am. Print out an entry form and send it in today!
2017 Annual Meeting
Catch up with old friends and enjoy a delicious meal at our 18th Annual Meeting on Tuesday, May 9, at Jonathan's Restaurant in Ogunquit. Cocktails start at 5:30 with dinner at 6:15. Our featured speaker will be Dale Piirainen, WHS '64. Click here for a signup form. We hope to see you there!
Board Meetings
Wells High School
7:00 pm
Apr. 12, 2017
Jun. 14, 2017
Sep. 13, 2017
Oct. 11, 2017
Nov. 8, 2017
Board meetings are
open to the public.
---
Don't forget to sign up for our free newsletter so you'll always be up-to-date on WHSAA news and events.
Reunion News
The Class of 1967 will hold its 50-Year reunion on Saturday, July 15. Contact Rick Clark (rclark5@maine.rr.com or 207-337-1853) for more information.
The Class of 1987 is planning a reunion in Wells on July 22. Contact Erin Pantelis (epant@comcast.net) for more information.
---
Members of the Class of 1966 gathered recently to celebrate!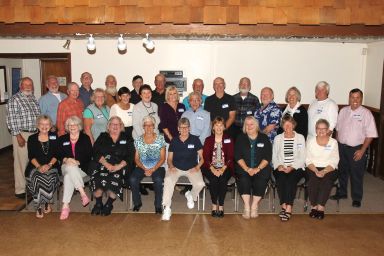 (Click on the image to see a full-sized version.)
---
Be sure to let us know if your class is planning a reunion.